Jody Hobmeier talks to us about her role working at moveero USA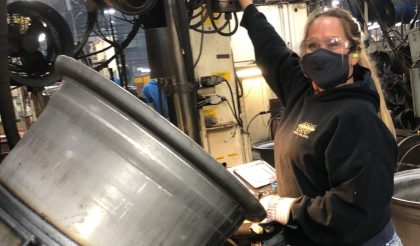 Name: Jody Hobmeier
Position/Title: Quality Department
Tell us a little bit about yourself:  I grew up in Estherville and received my education at Buena Vista in Training Diagnostic and Logistics. Both my spouse and I are employed at moveero and we have three children. I enjoy working in the community and being a part of a local business.
 Why did you choose to work in manufacturing? Or what brought you to this company/position?
 I enjoy the detail, the building of parts, finishing and inspecting a product that I know contributes to essential industries like the Earthmover and Agriculture Industries. I enjoy working as part of a team, I enjoy the challenges and my co-workers support.
 What is the best part of your job/career?
 The benefits are great. I have always taken pride in building a quality parts, now I have had the opportunity to move and work in the quality department and I get to work with customers to ensure that the quality products we deliver are to their satisfaction.
 What would you tell someone if they were considering a job in manufacturing?
 It's rewarding as you learn skills that you can use inside and outside of work. I have learned several problem-solving techniques, its great to see the finished product that you know you have contributed to.
 What do you wish more people knew about working in manufacturing?
You can come into manufacturing role with no previous experience and learn the trade through training. Keep an open mind, willingness to learn and hard-work pays off and it's good to know that there is room to grow, learn and move to different functions. It's always great to see what our finished products can do for others and the satisfaction of our customers.